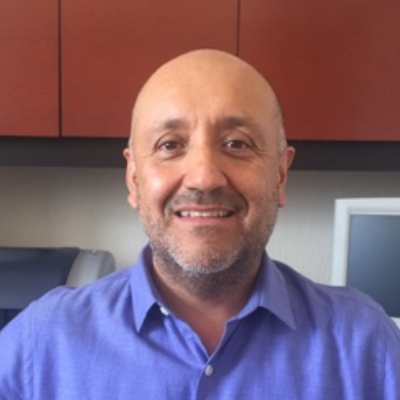 CINVESTAV - Querétaro
Prof. Luna-Barcenas is at The Materials Science Program at Cinvestav Queretaro, Mexico. He earned his Ph.D. in Chemical Engineering at The University of Texas at Austin, USA, and was a Postdoctoral Fellow in the groups of Profs. Pablo G. Debenedetti and Richard A. Register at Princeton University, USA.
Selected Honours and Awards:
Fulbright-Garcia Robles Scientist Program, Department of State of the USA.
E.D. Farmer Fellowship, The University of Texas at Austin, USA.
International Recognition from the AIChE, ACS, and MRS.
Selected Funding:
Private Mexican & USA pharmaceutical companies.
Conacyt of Mexico
US Army Research Office.
The State of Texas, USA.
The State of Queretaro, Mexico.
Institute for Polymers, Composites, and Biomaterials, Naples, Italy.
Cinvestav
Research projects:
Synthesis and characterization of polymers and biopolymers for biomedical applications, including metal nanoparticles (Ag, Au) for cartilage, skin, and bone regeneration. His interests also include the development of sensors for cation and anion detection using nanotechnology and synthesizing smart materials for drug delivery systems using ionic liquids and nanoemulsions. He has published more than 220 peer-reviewed papers, including two international patents and the supervision of 20 Ph.D. theses. He has given lectures and seminars in the US, Brazil, Mexico, Spain, UK, France, and Italy. He also works with the Mexican industry in new formulations of emulsions and nanoemulsions for agricultural applications. His innovative work on Deep-Eutectic-Solvents was chosen as Cover Journals' prestigious Journal of Polymer Science. Part A: Chemistry, Journal of Materials Chemistry A and Journal of Materials Chemistry B. His works have been cited more than 4,000 times (H=35). He has chaired the US-Mexico meetings (Macromex) on New Advances in Polymer Science with the Mexican Polymer Society and the Polymer Chemistry Division of the American Chemical Society. His work has been influenced by his collaborators in Texas (Isaac Sanchez), Manchester (Julie Gough), Madrid (Paco del Monte), and Mexico City (Cristina Velasquillo). Dr. Luna-Barcenas holds National Investigator-SNI 3. He is the current President of the Mexican Nanoscience & Nanotechnology Network.
Research Interests
Sensors for anion and cation detection, Bionanocomposites for biomedical applications, Smart drug delivery systems, Green formulation of biocides for agricultural applications, Molecular relaxation phenomena in nanocomposites, Use of Deep-Eutectic-Solvents for biocatalysis.
RESUMEN PLÁTICA
En nuestro grupo de investigación hemos fabricado nanocompósitos a partir de quitosano, un polímero de origen natural, con nanopartículas de Ag0/Ag+1 y Au0/Au+3 y nanopartículas de hidroxiapatita como agentes bactericidas en piel y regeneración de hueso, así como en sensores de metales pesados presentes en agua potable con resolución de ppb. La molécula de quitosano, un polisacárido natural, posee grupos -OH y -NH2 primarios que permiten explotar rutas de síntesis química atractivas para las aplicaciones antes mencionadas. El entendimiento de las interacciones moleculares entre las especies involucradas, así como los mecanismos de relajación molecular son clave para el entendimiento y desarrollo de dichos nanocompósitos. En este sentido, nuestro grupo de investigación ha propuesto la existencia de un nuevo mecanismo de relajación térmica en la molécula de quitosano que está relacionado a la vibración de los grupos OH- y NH2- los cuales sufren una reorientación a escalas de corto alcance. Este fenómeno es entrópicamente favorable de tal manera que permite reconocer la transición de estructuras cristalinas en la molécula de quitosano del tipo L-2 y annealed previamente no estudiadas a nivel molecular. Este reordenamiento molecular ha sido mapeado mediante espectroscopia de impedancia eléctrica, así como FTIR y XRD. El entendimiento de dichas relajaciones moleculares ha permitido diseñar materiales funcionales en medicina y medio ambiente.